Contemporary, Lyrical & Jazz
Gemma has taken classes at Showtime in every style; Jazz/Funk, Tap, Hip Hop, Contemporary, Ballet and Acro and is part of the performance troupe. She has competed at local dance competitions and placed multiple times for her solo's and duo's. Gemma has performed at Armadale community and school fetes such as Hills Heartbeat Festival, Minnawarra Festival, Challis PS Fete and Gwynn Park PS Fete and also participate in the Armadale Christmas Parade and the Channel 7 Christmas Pageant. Whilst a student at Challis Primary School she performed in their musicals and also helped choreograph the routines for the rest of her class mates. Gemma travelled to Sydney with Showtime HMS in 2013, 2015 & 2019 for the Australian Dance Festival where she learnt from Australian and International professionals.
In 2016 Gemma was awarded our Student Of The Year and in 2017 received our Performer Of The Night award at our Christmas Concert. In 2019 Gemma was competed at the Starstruck Dance Challenge and was awarded Highest Overall Senior Soloist and Senior Star Performer. Also in 2019 Gemma completed her Grade 6 Jazz & Elementary Ballet Exams receiving honours for both and a mark of 94% for Jazz.
After 5 years in our student teacher program Gemma is now teaching contemporary, lyrical & jazz classes at Showtime.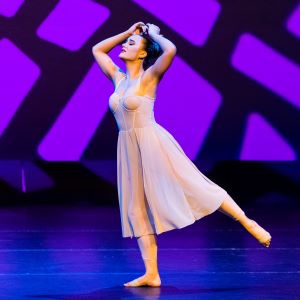 "I love to dance to improve and be the best that I can be. I also love to teach and inspire so the students can be the best in themselves"